20th and Final Shannon Hoon Vigil brings new life into me
A lot of places have an artist that plays the soundtrack to their hometown.
Jersey has Springsteen. Detroit has Seger. And Lafayette, Indiana has Shannon Hoon.
You probably associate Blind Melon with the "bee girl" video.
For me, they're what plays in my head when I think of home.
I attended the annual Shannon Hoon Vigil a few weeks back and it turned out to be a rather cathartic experience for me. Mama Nel Hoon made it clear that this was to be the final vigil after two decades of gathering in Dayton Cemetery to celebrate the September 26th birth and artistic life of a beloved soul.
My high school band Brown Cow played at the vigil the third and fourth years. We actually got our band name from a restaurant that used to be down the street from the gravesite. There may have been two dozen people back then, but the crowd has since grown to hundreds over a three day ebb and flow of fans from near and far.
I've made plenty of stops to the grave over the years, just to give a nod and admire the ever-changing adornments. But this was my first time making it back to the actual Vigil since my Brown Cow days.
Backstory
For those unfamiliar, Blind Melon formed in L.A. in 1990 and signed with Capital Records the next year. Hoon befriended fellow Lafayette native Axl Rose, singing backup on G'n'R's Use Your Illusion and appearing in the "Don't Cry" video. In 1992, the band releases their eponymous debut, which eventually reaches quadruple-platinum success thanks to heavy rotation of the "No Rain" video on MTV, and of course, Chris Farley squeezing into a bee girl costume on SNL.
Three days after Kurt Cobain's death in April 1994, Shannon appears on Letterman wearing a question mark on his forehead, then four months later, performs at Woodstock '94 wearing a dress and makeup.
In July of 1995, Shannon's girlfriend gives birth to his daughter Nico, the band releases their follow-up Soup the following month, then on October 21, Hoon is found dead on their tour bus in New Orleans, from a cocaine overdose at the age of 28.
The band releases their third and final album featuring Hoon as a posthumous tribute in 1996. They title it Nico.
That was it. A three-year meteoric rise to fame ending abruptly in tragedy. The story of Blind Melon is one of extremes – artistically, professionally, and emotionally.
It's kind of strange all the public moments Shannon shared with other celebrities that were also taken by drugs too soon. He's not as widely recognized, but he was a major part of that period in the mid-90s when we lost a lot of influential musicians at a very young age, with Bradley Nowell, Eazy-E, Tupac, Biggie and Jeff Buckley all departing by the end of '97.
In a way, looking back, Hoon's place in music history almost seems predestined. He constantly had a video camera in his hand filming every bit of life he could. Some have said it was as if he knew he only had so long.
But Blind Melon's epic saga of ups and downs never really stopped unfolding.
It all comes back to Mama Nel Hoon, and a promise she made to Shannon.
Mama Nel
I gave Nel a hug at the Vigil, and got to meet Melon guitarist Christopher Thorn. My inner Melonhead couldn't resist asking for a pic with the two of them in front of the Galaxy: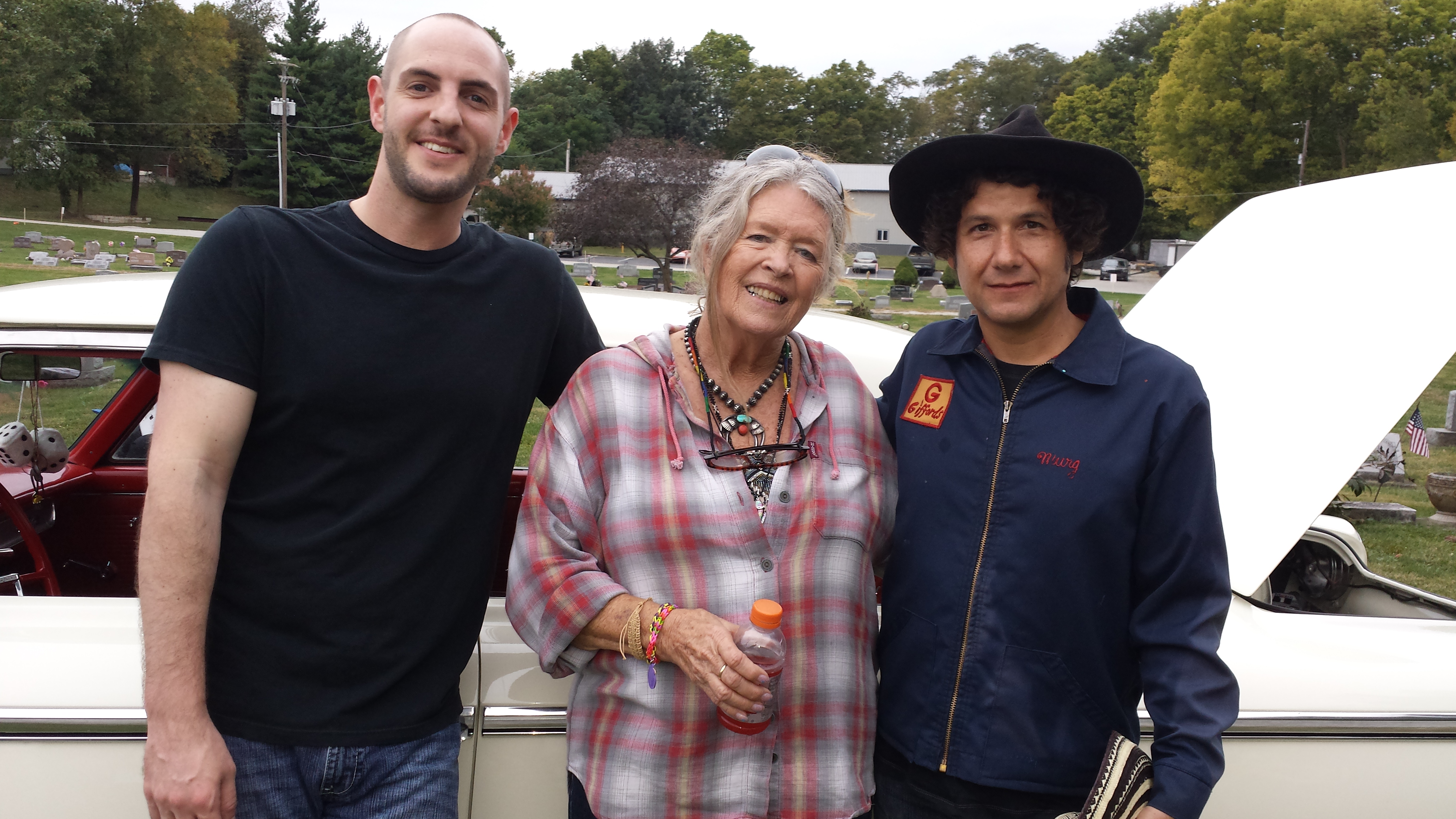 A 2012 HuffPo article quoted Nel saying, "I made a promise to Shannon that as long as I live, I would never let his name be forgotten." And she's done exactly that for two decades, footing the bill herself up until recent years when the community started raising funds in support. But at age 75, she's decided the 20th Anniversary is a good stopping point for the event, at least in Dayton. She told our local Journal & Courier that it's gotten stressful and she's tired. And nobody could possibly disagree with her.
Fortunately, she's reached a point where her promise will never be broken. The Melonhead community is already going into its third year of MelonFest, held every August in Grayson, Kentucky. Vigil isn't ending, merely evolving. Shannon's name is far from forgotten.
Since the beginning, Nel has demanded that Vigil be a sober gathering, and over time it's become almost like a support group offering encouragement to stay clean.
Shannon was a huge ball of captivating contagious creative energy, and he channeled it into brilliant highs, as well as destructive lows. But he wasn't shy about revealing the demons he battled in his art.
That honesty is what makes his lyrics so profoundly relatable to a lot of people who have struggled with substances or depression. They've banged their head against that wall again too. But everything will be okay.
It may have been a single line, or a song or an album, but something in the music managed to pull these peoples' heart strings so hard that it tweaked their life for good. This is a common sentiment among Melon fans.
But Nel's story doesn't stop with Shannon, and the bonds she's developed go far deeper than any event.
A second tombstone now lays to the right of Hoon's, that of his brother Tim Forkeotes, who died of cancer in 2009. Since then, the community surrounding Nel has fortified into a mutual love and support structure that can only be described as extended family. They reunite to console and be consoled.
There aren't many people who can relate to the pain Nel's gone through losing two boys, and her spirit is still bright as the day largely because of this dedicated global presence of fans, which continues to grow and spread the music further every year. Nel has several of them stay at her house during Vigil.
All of this has grown purely out of Nel's ever-open arms and a heartfelt respect for her son's music.
Change
Vigil is kind of a surreal vibe, because much of the group is clearly familiar with substances, but nobody's passing around a thing. There's a real respect for Nel's request, and it breeds a refreshing solidarity and a sense of renewal among the crowd.
Staring down at the flickering candles, gazing at all the little toys and art pieces and photos placed around the stones, I begin to question my own relationship with substances; with art; with people.
Shannon's epitaph is a verse from "Change" that reads: "I know we can't all stay here forever, so I want to write my words on the face of today. And they'll paint it."
Twenty years after his passing, they continue to paint it.
"When life is hard, you have to change." That chorus has helped me through several tricky transitions in my life, and recently inspired yet another.
It feels good to start fresh. Looking to the future with a new set of eyes.
I think I'm gonna like change.
Update Oct. 19 – The four remaining members of Blind Melon reunited in 2007 with singer Travis Warren at the helm, and our recently reinvigorated Lafayette Theater has them booked for New Year's Eve and Day. I just picked up tickets for both nights. A hearty helping of nostalgia and contentment sounds like a perfect way to ring in 2016!